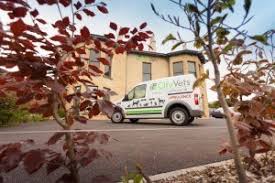 Building Extension/Refurbishment – City Vets, Exeter
City Vets at Heavitree in Exeter is a busy veterinary providing care for animals within the Exeter area and beyond. Due to the number of Clients and animals which are passing through their doors, the Client and their agent required a two-storey extension to the existing building. This extension was to provide a new state of the art operation room, recovery facilities, staff accommodation facilities and treatment areas.
Oatway Design Ltd was approached by the Client to provide the Mechanical and Electrical Design Duties for the new building extension and refurbishment of part of the existing building. These included the design for the heat recovery and air extraction ventilation systems specifically for the care and operational areas within the building, heating, air conditioning, hot/cold water, new electrical small power services, electrical infrastructure and new sub-mains, CCTV, security, data/comms, fire alarm and designs for the specialist equipment.
The Client was very complimentary of the service, compassion and dedication which was provided/shown by all our Staff throughout the project.
Share This Story, Choose Your Platform!