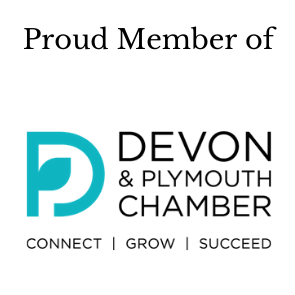 Devon and Plymouth Chamber of Commerce
We are proud to be continuing our membership and support with Devon and Plymouth Chamber of Commerce. With over 200 years experience in the Plymouth and Devon economy, The Chamber of Commerce aim to be an influential voice for all businesses in the area. Being part of the Devon and Plymouth Chamber comes with a variety of member's benefits including expert business support, discounts, communication networks and events to build relationships with other business owners.
Over the numerous years we have partnered with the Chamber of Commerce we have enjoyed many events and gatherings, although recently these have been virtual, we are sure our chamber community will enjoy being back together in the near future.
"We are pleased and delighted to remain an active member of the Devon and Plymouth Chamber of Commerce with all the key events, business assistance, the chamber offer etc. The Chamber continues to work tirelessly to represent the counties business requirements to ensure the south west is seen by central government as being a key element of the country's economy and growth".
Stephan Oatway – Managing Director, Oatway Design Ltd.
Share This Story, Choose Your Platform!